Brand positioning
Siemens Gamesa
Siemens Gamesa is a leading supplier of wind power solutions across the globe. The sponsorship of Recharge's roundtables helped Siemens Gamesa deliver highly-valuable brand positioning to business influencers on a trusted independent media platform.
In today's remote-working environment, Siemens Gamesa needed to keep human connections as strong as possible as well as reaching a wider targeted audience to reinforce it's position as a market-leader.
Given that the Recharge name is a guarantee of caliber, Siemens Gamesa wanted to harness the power of their brand and align it with event topics at the sharp end of the industry.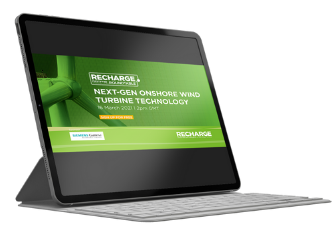 A strategic partnership
Leveraging the extensive experience Recharge has in hosting high-quality events across the renewable energy sector and backed by a targeted reach of key decision makers, Siemens Gamesa sponsored Recharge's Next-Gen Onshore Wind Turbine Technology digital roundtable.
We created an integrated digital advertising campaign across all Recharge channels, including ON24, the webinar experience platform and social media, ensuring complete visibility of Siemens Gamesa's logo to the right audiences, during both pre and post-event marketing.
During the interactive live webinar, the sponsor also had its presence felt with their logo on the main screen, linked to the company website and the option of downloadable whitepaper handouts.
"Sponsoring an event with Recharge, whether digital or in-person, allows us to reach more potential customers, suppliers, collaborators, and candidates than via traditional press or social media activities. Our spokespersons also receive excellent visibility, allowing us to connect their faces and personalities to our brand name."

David Lenti
Head of Offshore Communications, Corporate Affairs, Siemens Gamesa Renewable Energy