Brand positioning
Long seen as a key element in global decarbonisation, green hydrogen has emerged into the limelight as an accelerant for the energy transition. Green hydrogen, which uses renewable energy to produce hydrogen from water, with the potential onshore only superseded by what might be achieved offshore, where H2 could be produced, stored and shipped to landfall for industrial use and in the future become a fuel for zero-emission shipping.
Sponsors have already invested heavily towards a greener future with the roll out of large-scale ambitious projects but they also needed to build relationships with energy decision makers, to not only educate them on their industry-leading whitepapers but to also target the people who matter the most to their businesses.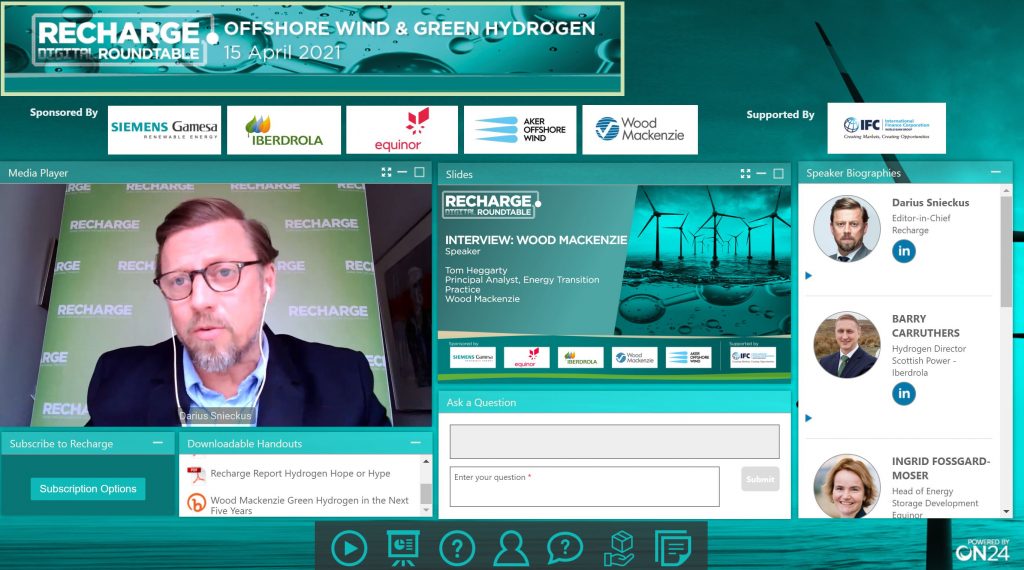 Connecting brands to key influencers
Sponsors needed a trusted, international and independent media to create a platform where unbiased discussions could take place whilst drawing in an influential audience.
A strategic partnership for the Recharge's Offshore Wind and Green Hydrogen digital roundtable, global energy companies, Siemens Gamesa, Iberdrola, Equinor, Aker Offshore Wind, and energy research consultancy, Wood Mackenzie, sponsored the event to showcase their areas of expertise in the technologies and production of green hydrogen but to also be timely connected to the hottest energy transition subject that has also been driving Recharge's news headlines.
Brand positioning through logo visibility on all pre and post email event marketing campaigns, plus advertising across of all Recharge's digital platforms and social channels, helped connect to our energy readers, resulting in Recharge's biggest event sign-up to date. The event was hosted live on the ON24 webinar platform, which also ensured audiences could engage with sponsors by downloading their whitepaper.