How to optimise your video content for search engines
In recent years marketers have rapidly embraced video as an integral piece of innovative and influential campaigns. Before the pandemic, video reigned supreme as the number one form of media used in content strategy (Hubspot Research, Global Survey 2019).
Following a year of remote work and digital transformation, this trend shows no signs of slowing down with 86% of businesses using video as a marketing tool (Wyzowl 2021).
But with over 720,000 hours of video content uploaded to the internet daily (yes, daily), getting your video content to rise above the noise can seem daunting.
That's where video search engine optimisation, or vSEO, comes into play.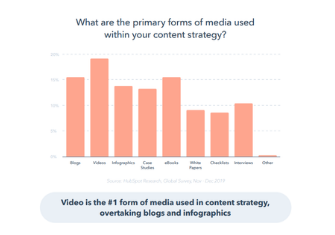 What is video SEO?
vSEO is the method and process of optimising your video content for appearing in search engine results pages or SERPs. The goal of a successful video SEO strategy is to increase traffic to your website organically via link building, ultimately boosting your conversions.
Metadata matters
Metadata are unseen HTML elements meant to communicate and clarify information about a website and its content to search engines. Most "normal" SEO strategies will focus on incorporating chosen keywords into meta-tags such as content type, title, and viewport. When search engines crawl web pages, these elements are interpreted based on relevancy to search queries based on specific keywords.
Since search engines don't understand how to interpret moving images (yet), they need a little more help from us when ranking video search results. For vSEO, there are effectively two categories of metadata considered – source metadata and added metadata.
Source metadata includes technical aspects like time of recording, file type, or camera settings, and are usually added automatically when shooting or editing. Added metadata refers to any information that you've added to help describe the content. Basic types of added metadata used in vSEO include traditional tags like the video's title and description. Savvy video marketers may incorporate more advanced elements in their vSEO strategy by enabling specific video features such as video previews, key moments, or live badges.
4 Key Elements for Video SEO
Title – For your title tags, you'll want to follow the same basic guidelines for non-video content. Position your essential keywords upfront, and condense your title to 50-60 characters maximum.
Description – Your video's description is arguably the most important element in vSEO. Serving a dual function, the description tells machines how to rank the video and gives humans a clear preview of what they'll experience with your content. To please the robots, aim to include your important keywords and strings in the first 48 characters. Typically only the first three lines will be visible within the results, so you'll want to make these the catchiest lines to lure in viewers.
Tags – Seemingly unimportant, selecting proper YouTube or social tags for your video content will score you points with the robots. Your video SEO's tagging strategy should incorporate a mixture of general tags that can be applied to any of your branded content, and specific tags to describe individual pieces of content.
Transcript – An element often overlooked when uploading & marketing video content, a video transcript includes all audio from the video in text format. Embedding a transcript in your video's metadata helps boost your rankings, and helps enable subtitles and screen-readers to make your content more accessible.
Learn more
Get in touch with us to learn about more advanced vSEO tactics and making compelling videos that convert.